The Protocol of the 37th America's Cup was released on November 17th in Auckland, New Zealand, by the Defender, the Royal New Zealand Yacht Squadron and Emirates Team New Zealand and the Challenger of Record – Royal Yacht Squadron Ltd and their representative team INEOS Britannia, eight months to the day after Emirates Team New Zealand successfully defended the America's Cup. The venue for the event has not yet been announced, an aspect that will only be made public in March 2022.
The 37th America's Cup will take place between June and September 2024. There will be up to three Preliminary Regattas, the first two raced in AC40s, the last one at the Match venue in AC75s. The Challenger Selection Series and the America's Cup Match will be held in 2024, with the Match Venue and approximate event dates to be announced by 31st March 2022. This indications seem to suggest a location in the Northern hemisphere and therefore not in New Zealand, where it is winter in the indicated period. We'll see.
In addition to the AC75 boats that will race in the America's Cup, the new AC40 boats have been introduced, which will be used for the Youth America's Cup, the Women America's Cup and the World Series.
Protocol's highlights
Teams are only permitted to build one new AC75.
Limitations on the quantity of foils and componentry that can be built for the AC75's.
Introduction of the multipurpose One Design AC40 class which teams will be able to convert and use for testing, component development and Match Race training.
AC40 class will then be converted back to the measured One Design AC40 class for use in the exciting new America's Cup Women's Regatta and America's Cup Youth events. These events have been developed to create new accelerated inclusive pathways into the America's Cup for the growing global talent pool of female and youth sailors.
Race crew onboard the AC75 reduced from 11 to 8 sailors.
Further One design elements.
Shared team recon.
Supplied starting software. • The AC75 class of boat will be maintained for the next two events.
The Protocol outlines restrictions on when the AC75's can be sailed. With the anticipated benefit angled towards new Challengers to AC37, existing teams are not permitted to sail their AC75s' before the 17th September 2022, however new Challengers entering AC37 that have purchased a second hand AC75 are permitted to sail their AC75 for 20 days from 17th June 2022. There are other restricted sailing periods which are provisional and will be confirmed once the Match venue is announced.
The Crew Nationality Rule will require 100% of the race crew for each competitor to either be a passport holder of the country of the team's yacht club as of 17th March 2021 or to have been physically present in that country (or, acting on behalf of such yacht club in Auckland, the venue of the AC36 Events) for 18 months of the previous three years prior to 17th March 2021. As an exception to this requirement, there will be a discretionary provision allowing a quota of non-nationals on the race crew for competitors from 'Emerging Nations.'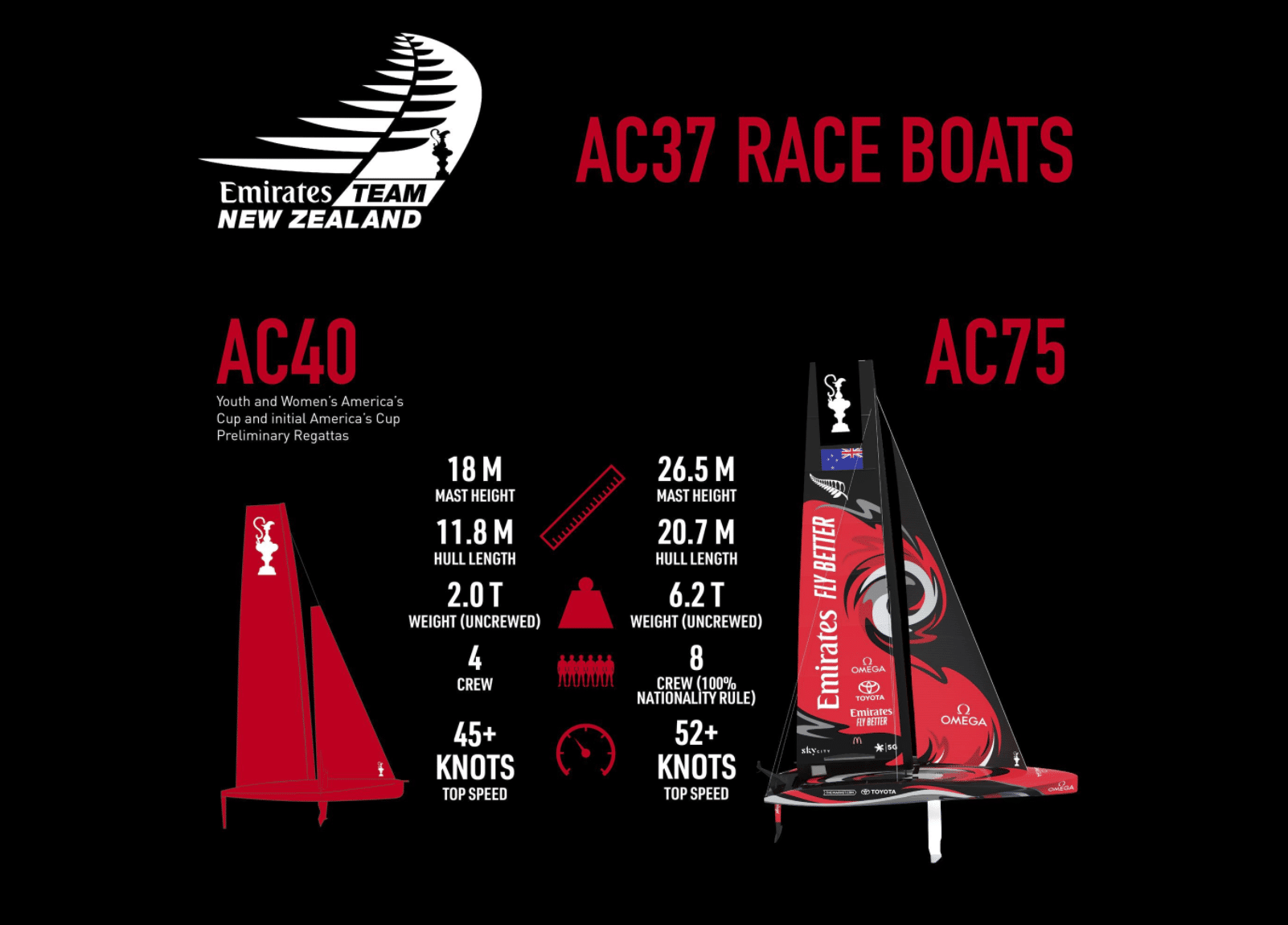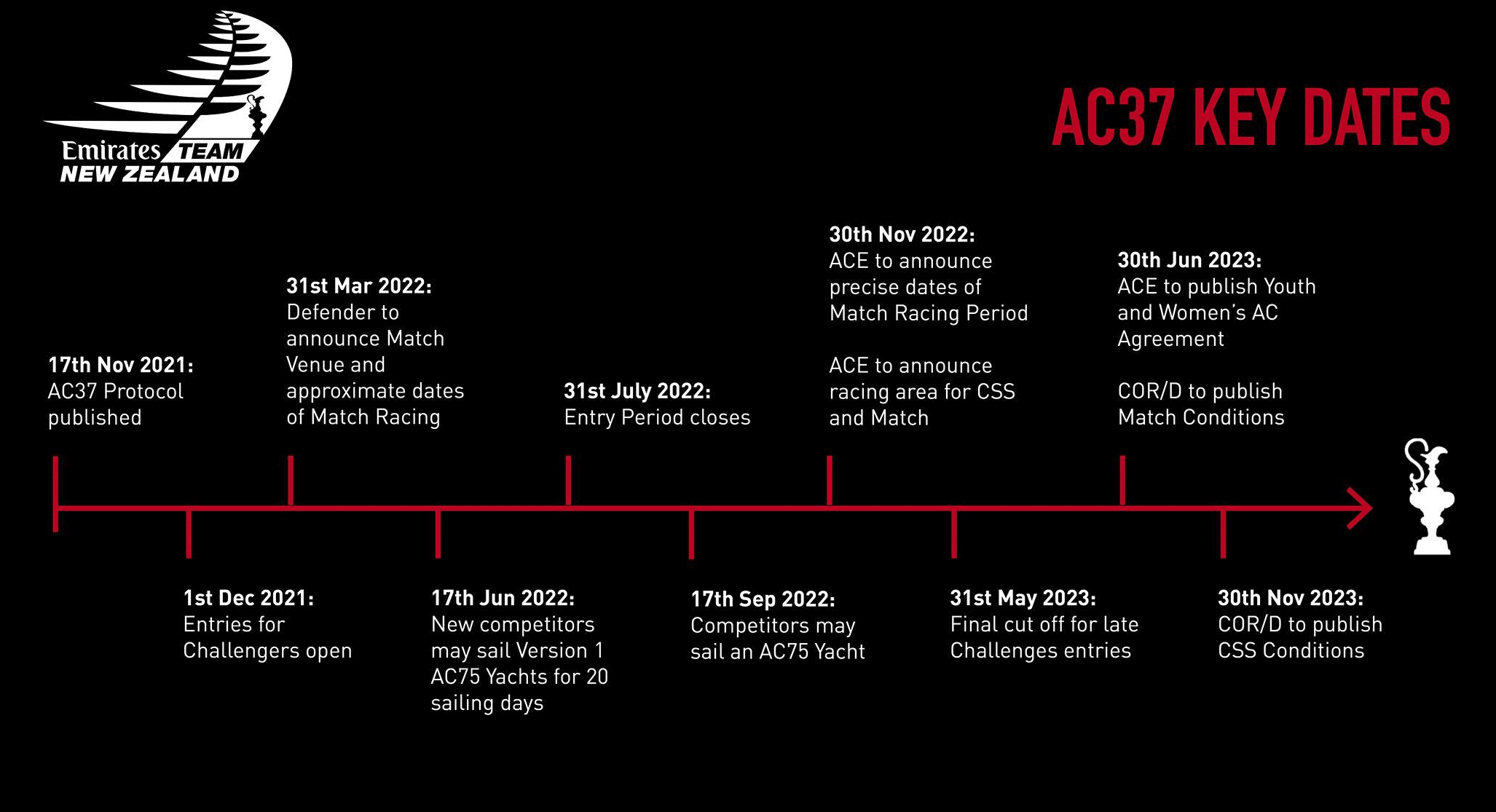 To know more:
The official communication by Emirates Team New Zealand