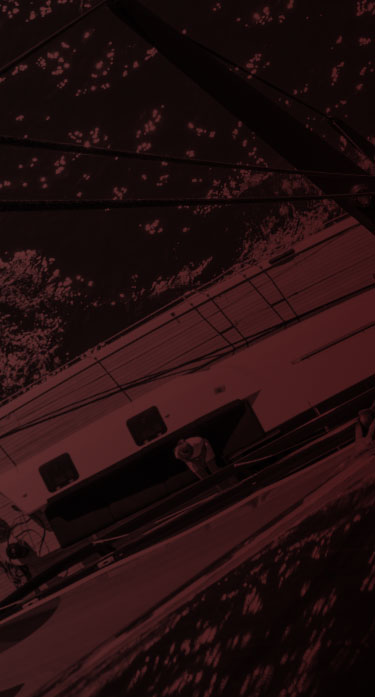 Performance
line
Technical ropes for racing boats. This line is constantly analysed and updated in order to give an appropiate performance to the requirements of the most demanding crews.
02. Dyneema® SK78 +HPS+PU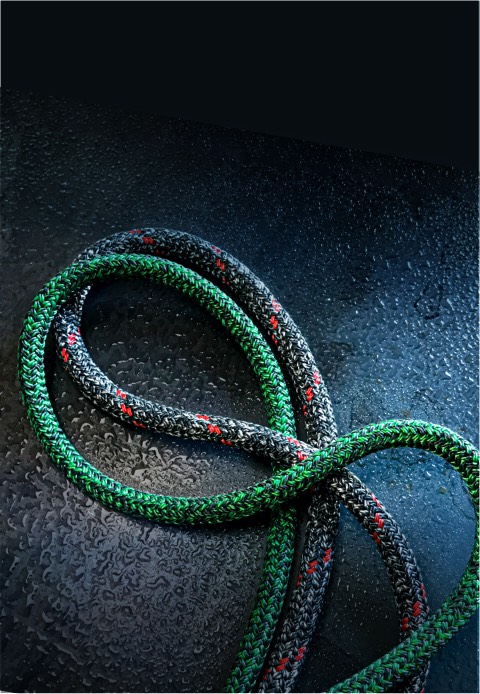 Dyneema®
SK78 +HPS+PU
Discover all the exceptional characteristics of the Dyneema® technical fiber in the section dedicated to in-depth analysis and comparison of the various technical fibers.
02. Dyneema® SK78 +HPS+PU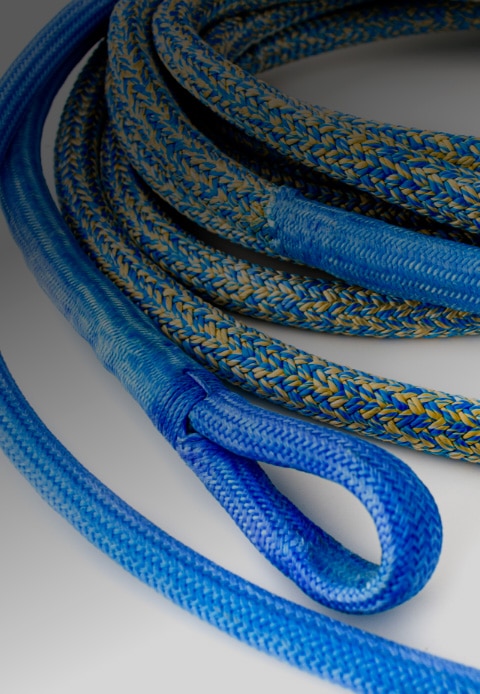 Finishes,
splices
Armare Ropes offers many handcrafted finishes on the ropes that can be customized with splices, protections or with the application of thimbles and other terminals according to specific requests.
02. Dyneema® SK78 +HPS+PU
Overview
Performance line
Armare Performance line products are made using with two different fibers that can be eventually completed with different choices of treatment and protective covers.

The ropes are available as single braids, or can be configured as desired by combining the different cores with the covers.
Various preficongured ropes are also available. The Performance line includes a selection of soft "Soft Braid" ropes intended for use on day cruisers and performance boats

Performance line
Performance and lightness for fast cruisers and club racers
The Performance line groups highly performing ropes, particularly indicated for use on fast cruiser and club racer boats.

The range focuses on two technical fibers: Dyneema SK78 and Vectran®, also available with different special treatments, in order to obtain even better performance.
The cores can be coupled with a wide range of protective covers with different features, to be used as sheets, halyards or other running rigging on board.
Performance
line
The ropes of the Performance line are available both as single braids and double braids (complete rope: core + cover).
The rope can be composed by choosing both the core and the cover from the various options available.
Performance Line
Single braid / Trecce singole
Single braid / Trecce singole
Dyneforce 78Dyneema SK78
Superound 78Dyneema SK78
Light 78Dyneema SK78
Vec-tecVectran
SupercompactDyneema SK78
Single braid / Trecce singole
Double braid / Cime complete
Cores / Anime
Dyneema® SK78HPS + PU
Dyneema® SK78PU
Dyneema® SK78–
Vectran®PU
Covers / Calze
Black Technora® Dyneema®BTEC / DYN
Black Technora® Dyneema® PoliestereBTEC / DYN / PET
Black Technora® PoliestereBTEC / PET
Kevlar® Dyneema® PoliestereKEV / DYN / PET
Cordura®PoliestereCRD / PET
PoliesterePET
Double braid / Cime complete

Single braids
Performance line

Dyneforce 78
12 plait with Dyneema® SK78 impregnated with polyurethane coating and special heat treatment HPS. Ideal for tackles, backstays, runners, baby stays, control lines, strops and loops; moreover for lashings where a good breaking load and a low elongation are required

Superound 78
12 plait with Dyneema® SK78 impregnated with polyurethane coating. Ideal for bindings, leading blocks, control lines and tackles.

Light 78
12 plait with Dyneema® SK78. Ideal to build the tack points on sails.
Vec-Tec
12 plait in Vectran® with polyurethane coating. Ideal for luff and leech lines, furling cables, steering gear and control lines if protected from UV rays below deck or hidden inside of the sail.

Supercompact
12 plait with Dyneema® SK78 impregnated with polyurethane coating, with a supercompact construction. Ideal for all those uses which require a more compact, abrasion and bending resistant single braid, at the expense of a slight increase in elongation.
Special treatments
Different special treatments may be applied to the braided cores and to the technical fibers to enhance their characteristics in terms of elongation, creep and resistance, and to obtain even better performance.

Dyneema® SK78 + HPS + PU 
The High Modulus fiber Dyneema® SK78, characterized by a remarkable stability under constant loads, provides the following features: low creep, elevated breaking load, low elongation, light weight, low level of water absorption, high resistance to UV rays and abrasion, great flexibility, high resistance to cutting. The ropes made with Dyneema® SK78 + HPS + PU are therefore destined to extreme performances, especially during highly demanding regattas when the permanent load is continuously present.

Dyneema® SK78 + PU
This Line of ropes differs from the previous version Dyneema® SK78 + HPS + PU to the lack of the HPS treatment, which means that there is no thermic pre-stretching under load. This makes the rope more manageable, as the core is more supple. It has a slightly different breaking load and elongation in comparison with DYN 78 + HPS + PU, because the braid is not settled (it means that the differences of tensions between fibers are not adjusted). However, its general features remain at a high level, making this rope affordable to boats and crews of a less extreme technical level.

Dyneema® SK78
These ropes are made with the same quantity of Dyneema® SK78 and the same parameters of construction as the previous versions, but have not undergone any type of treatment. This makes them soft, while maintaining all the characteristics of Dyneema® SK78 with slightly lower performance. Given the absence of treatment, it is not advisable to use the rope without a cover. Particularly suitable for ropes when maximum handling over time is required.
Vectran® + PU
The main feature of the Vectran® fiber is having a near zero creep if used under loads up to 50% of the breaking load. Vectran® braids are ideal when used under static loads, e.g. as main sail and genoa halyards, as well as for steering line systems and afterguys. But it's important to remember that the fibre is not resistant to UV rays and therefore it isn't particularly suitable to be used without cover, unless in specific cases protected from the light or if replacements are constantly planned.
Technical features
Dyneema SK78
Vectran
Tenacity
[cN/dTex]
35,1
24,2
Modulus
[cN/dTex]
1160
530
Creep
[-]
Molto buono
Eccellente
Specific gravity
[Kg/dm3]
0,975
1,41
Fusion Temp
[°C]
147
330

Black Technora® / Dyneema®
The mixture of these fibres has been carefully studied to be fairly distributed in order to make them take advantage of their mutual characteristics, both in terms of durability and performance. Excellent results in order of smoothness, abrasion resistance and durability have been reached.

Black Technora® / Dyneema® / Poliestere
This item is suitable for many different boats and uses because of its excellent resistance to abrasion and to repeated bending. Compared to TEC/DYN covers, it is easer to customize thanks to the presence of Polyester and it even becomes more recognizable in the distinction of the different manoeuvres.

Black Technora® / Poliestere
It combines high level functional characteristics, with UV and abrasion resistance as well as a good grip. Thanks to the mixture among the Black Technora® and the different Polyester colours, the look is also winning.

Kevlar® / Dyneema® / Poliestere
It preserves similar characteristics as its sister-cover BTEC/ DYN/PET, but thanks to the high point of fusion of Kevlar® it is more suitable for high speed manoeuvres and load, where the ropes reach high temperatures. It holds one of the best grips but a lower UV resistance in comparison to Black Technora®, which is composed by special pigments that protract the life of the rope, despite of the exposure to UV rays.

Cordura® / Poliestere
This rope stands out for its lightness and perfect grip. It has been studied to obtain an excellent grip on stoppers and winches through the use of special anti-slip fibers.

Poliestere
It is the most used fiber on different types of boats thanks to its good resistance to UV rays and to abrasion and for its excellent durability to atmospheric agents. Moreover, it is easy to customize and ideal to diversify the different manoeuvres.
Marine and yachting
catalogue
Click the link below to download the Armare
Ropes marine and yachting PDF catalogue.
Soft Braid Performance
Soft ropes with excellent grip for use on performance boats
Soft Braid 3 and 4 have a core in Dyneema® SK78 + PU.
Soft Braid 3 has a cover in Dyneema® and Polyester, while Soft Braid 4 cover is in Dyneema®, Polyester and Kevlar®.
Both have a Grip Treatment on the cover, which gives excellent feeling in the hand, as well as ensuring superior grip on the stoppers. These ropes are resistant to abrasion and have an excellent behavior during fast surges, a feature that makes them suitable for use as sheets.
Soft Braid 5, instead, has a core in Dyneema® SK78 + PU with Super Shape anti-attening insert.
This feature make it even more performing and suitable for use as sheets on ratchet blocks, where the special Super Shape treatment prevents triangulation.

Soft Braid 3
Braid made with Supercompact Dyneema® SK78, impregnated with PU coating. Sliding and abrasion resistant cover, good breaking load and low elongation core. Destined for sheets and control lines with frequent running.

Soft Braid 4
Braid made with Supercompact Dyneema® SK78, impregnated with PU coating. Sliding cover with excellent resistance to quick sure; optimal duration to abrasions thanks to the Kevlar®
fibre Low elongation core with good breaking load. Destined for sheets with frequent and fast running.

Soft Braid 5
Braid made with Supercompact Dyneema® SK78, impregnated with PU coating and anti-flattening insert. Sliding cover and resistant to abrasions. Super Shape core with anti-flattening insert. For sheets which are designed to perfectly work on winches and blocks and do not create loops and kinks.
Best Sellers
Performance line
Mooring and
anchoring ropes
Complete range of highly customizable
mooring ropes, with excellent performance
and durability.